Pom Pom Love
December 15th, 2014 • Blog • 0
---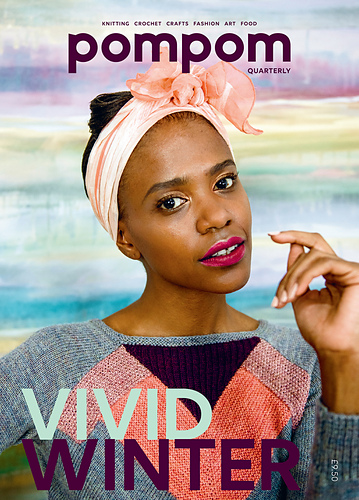 I have a love for pompoms. I would put them on all my knitting if I could.
A magazine named after them? Got to be the coolest for sure! I love the concept and style of the magazine, articles about knitting yes of course but also about other aspect of creativity such as music and food.
I like to talk to people and ask questions so I knew we had to discover more about the lovely people behind the Pom Pom Mag.
First off, I was surprised to learn that the magazine is in fact run by two pompoms; hence the name. Gotcha!
For real Pom Pom Quarterly was started by Meghan and Lydia, two friends living in London back in 2012. Collaborating to the magazine are many of their talented crafty friends.
They are surrounded by an awesome team that makes every issue a pleasure to flip through.
The girls kindly took some time to answer questions fiber and not so fibery related; fans of Pom Pom enjoy the read! (If you aren't already a fan, what are you waiting for?!?).
---
Black or Brown?
M – Black for sure!
L – Hmmm, I think black!
Cats or dogs?
M – I am a certified crazy cat lady. I just got a new kitten named Mindy and she's the sweetest – though not very well behaved when it comes to yarn…
L – Oh I don't know if I want to choose! But my best ever pet was a dog. So I'll go for dog.
Knitting gadget you can't live without:
M – I don't know if it counts as a gadget, but I couldn't live without my set of Chiaogoo interchangeable needles.
L – Maybe my needle gauge?
Gadget you can't live without not knitting related:
M – I am very sad to say that I am addicted to my iPhone.
L – My capo for my guitar. Or maybe my phone…
Favorite hobbies not fiber related:
M – I recently got into calligraphy, and other than that I love live music and riding my bike!
L – Playing guitar and singing, playing around on the piano, karaoke (sensing a theme here). I also love cooking and all sorts of other crafts. And when I get the opportunity I love to horse ride.
Only one color for the rest of your life, which will it be?
M – Y.e.l.l.o.w.
L – OMG I DON'T KNOW. Maybe green? Or yellow? Or blue? One of those.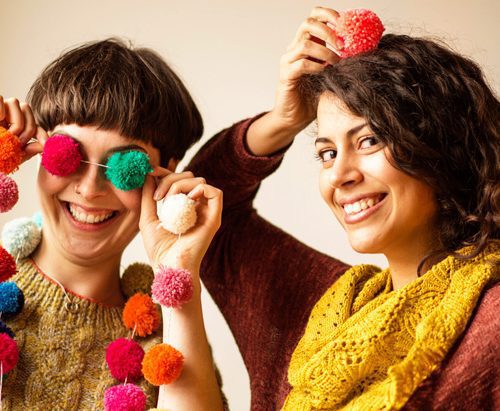 Crochet or knitting?
M – Hmmmmm… I do love them both, but if I were on a deserted island, with only the choice of needles or hook, I'd choose needles!
L – Oh boy how could I choose? Even though I learned to crochet first I suppose I knit a lot more than I crochet. So I will choose knitting.
How did you first came in contact with the needlecraft world and how did you get started? Does it run in the family?
M – I first learned to knit from my boyfriend's mom when I was a teenager. She was a great teacher and even bought me a sweater's worth of yarn for my first project for my birthday. What a star!
My mom doesn't knit, but she sews a bit. My grandparents were the crafty ones – my dad's mom was a knitter and crocheter and my mom's parents owned a men's clothing shop where they sold and tailored suits.
My grandfather was also a knitter and was known to knit while in the Marines in the 1940s.
L – My mum taught me to knit when I was little, but I only properly started when I was a student. My grandmother is an excellent craftswoman, and my mum is great at sewing. But for some reason I never asked either of them for help, I taught myself from books one rainy Welsh summer.
First completed project?
M – I wish I could say it was that sweater my boyfriend's mom got me started on, but I am afraid I never finished it. In fact, I can't remember what my first finished project was!
L – A VERY ugly crocheted hat. My mum kindly wore it. She is a saint.
Number of WIPS on your needle right now:
M – Absolutely no idea! I have a zillion project bags with half-finished knits in them. If we are talking actual, active projects, then you've caught me at a good time where I have finished loads recently, and am just doing some swatching at the moment.
L – At least 5… but I'm not sure. Argh!
Favorite book not knitting related:
M – Their Eyes Were Watching God by Zora Neale Hurston
L – Probably 100 years of solitude by Gabriel Garcia Marquez.
Something that changed your crochet/knitting: 
M – Probably Ravelry, before Ravelry I didn't know about all the beautiful yarns and fibers that were out there. That definitely changed my knitting forever.
L – When I figured out that a purl stitch is a knit stitch on the other side and vice versa, suddenly the fabric started to make sense and I felt like I could experiment!
Something new fiber-related you want to try in the near future?
M – I just took a short class on dyeing with cochineal and we dyed some silk scarves. I was able to take some of the dye bath home and dyed some little skeins of merino I had.
It was really interesting, but I think I will leave it to the pros. I don't have enough time for all the knitting, crocheting and sewing I want to do already!
L – I would love to have a go at dyeing.
Hidden talent:
M – The ability to wiggle my ears? Not a very useful superpower!
L – I don't think I have any, my non-craft talents are all quite noisy. Although I can raise each of my eyebrows independently of the other, which I am very pleased about.
Oh and I also cut hair, although I'm not sure if I am talented at it or if my friends are just pleased to have their hair cut for free…
Wood or metal?
M – Wood… I think!
L – I don't like metallic smells. So maybe wood. Unless I am knitting! In which case it's metal needles all the way!
Go to favorite accessory when knitting a gift? 
M – I have a lot of friends having babies these days, so my most common gift knitting is usually a little cardi, hat or blanket!
L – Fingerless mitts. Love a good pair of fingerless mitts!
Not working in the fiber industry, what would be your second dream job?
M – Probably something that was still very hands-on. If I got to make something – jewelry, calligraphy, clothes, furniture, whatever – I think I would be happy.
L – I am not sure… probably an academic working in Theoretical Linguistics, specifically in grammatical semantics.
Morning person or night owl?
M – The older I get, the more of a morning person I become!
L – I used to be a night owl… then I had a long stint as a morning person. I think I am a morning person who happens to like staying out late!
A place/country you wish to visit and why:
M – Oh everywhere! I used to be most attracted to visiting cities and places with lots of culture, but recently I have been more drawn to visiting naturally beautiful places.
L – I have been very keen on going to Estonia for a while, I would love to go to Muhu Island and see their amazing craftwork in real life.
Stitch pattern favorites:
M – Moss moss moss moss moss.
L – I am a huge garter and moss stitch fan, I also love daisy stitch, and most stitch patterns that have slipped stitches in them.
Yarn weight you are more drawn to?
M – I am a pretty lightweight yarn kind of person. Lace through DK and I am happy!
L – It's 4ply all the way.
Being friends and business partners, a quality the other as you which you had?
M – We're lucky that we balance each other out pretty well! Business-wise I wish I had more of Lydia's way with numbers and life-wise she's just way cooler than me. I could use a bit of her cool.
L – I wish I was more tech savvy – Meghan has a much better intuition for computer stuff than me, from blogging to website building, I am always learning from her.
I also admire her gift for innovation, she is always thinking of ways to improve the magazine and the way we work, always figuring out how things could be done better. She is a natural innovator for sure – whereas I can get very stuck in my ways! Oh yes and she has super popcorn skillzzz.
How did you two meet?
We met working at Loop, the lovely knitting shop based in Angel, London.
What did you do before Pom Pom?
Lydia: I had finished an MA in Linguistics in Manchester. I worked in Loop for a while, where I fell in love with knitting completely, then went to Mexico for a year.
When I came back to London I started working at Loop again, and pretty soon after I came back the idea for Pom Pom was born!
Meghan: I came to London from the US to study English Literature and had completed an MA in Writing, Gender, and Culture. I wrote my dissertation on knitting in women's literature.
For a few years, I had various jobs including in a publishing company and then as an events manager for an architectural gallery before landing at Loop and becoming completely immersed in the knitting world!
When was the idea born? What made you go: We HAVE to create this?
The idea was born in January 2012. I think the idea filled a gap for us in terms of having a creative project, and it was just something we really believed in from the start.
We felt like there was a gap in the craft magazine market for something that reflected our love of independent publications and independent dyers and designers, something that could really show how darn stylish knitting is! And we suspected there would be others who felt the same.
How do you see the magazine evolving in the coming years? What would you like to accomplish with it?
We are full of ideas! Some of which aren't very concrete yet, but we have a new team member starting in September which will mean we can get going on some of these little schemes – including (we hope!) books! Watch this space!
How has it changed since the beginning?
For our very first issue, we had little idea of what we were doing, to be honest! And we did everything ourselves – the designs, the writing, the packing of orders, etc.
Since then our standard of photography has gone way up and we commission designers, writers, tech editors and proofreaders! We also have many more pages, and for our current issue, we've got a new beautiful soft-touch matte cover.
Many things have stayed the same though – like our graphic designer, our focus on independent yarn companies and designers, and the fact that we personally hand-wrap each issue we send out in tissue paper with a note!
We just appreciated each person ordering the first issue so much that we wanted to thank them. And we still feel the same way!
How do you decide on what will be part of it?
We use our gut instinct a lot. And a lot of our decisions make sure that each magazine works as a whole, and feels tied together in some way. I think both of us just get a strong sense of what will work, even if we can't articulate our theme.
We also like to get a good variety of projects, so not too many sweaters or hats or mittens! We also like to make sure we are doing something a little bit different, that you can't find elsewhere. Our motto is "all killer, no filler", meaning each pattern, article and feature has to be meaningful, and not just take up space to fill pages.
I like to share recipes with the readers (I am a big food fan!) and if you have a recipe you are famous for would you like to share it?
Yes! It's become a tradition for us to serve popcorn at Pom Pom events and although we use a popcorn machine for those, we love to make it at home too! Meghan has a perfect recipe which she found online but can't remember where – it goes like this:
Put 3 tablespoons of oil in a large pot that has a lid. Place 2 or 3 kernels of popcorn in and turn the heat up very high. Once the kernels start to pop, remove the pot from the heat and add 1/3 cup of kernels – shake the pot for 30 seconds off the heat.
Put the pot back on the heat and cover, but leave an opening for steam to escape. Once the popcorn has pretty much stopped popping, you should have perfect popcorn, with every kernel popped! I like to put all kinds of things on popcorn, but recently thyme and lemon is my favorite combination.
---
Thank you again, girls, for being so generous of your time, looking forward to many more years of reading Pom Pom Quarterly and to seeing more project emerge from your collaborations. Love ya!
Show Pom Pom some love! Follow them on Instagram, Facebook and Twitter, join their Ravelry group or check out their boards on Pinterest.