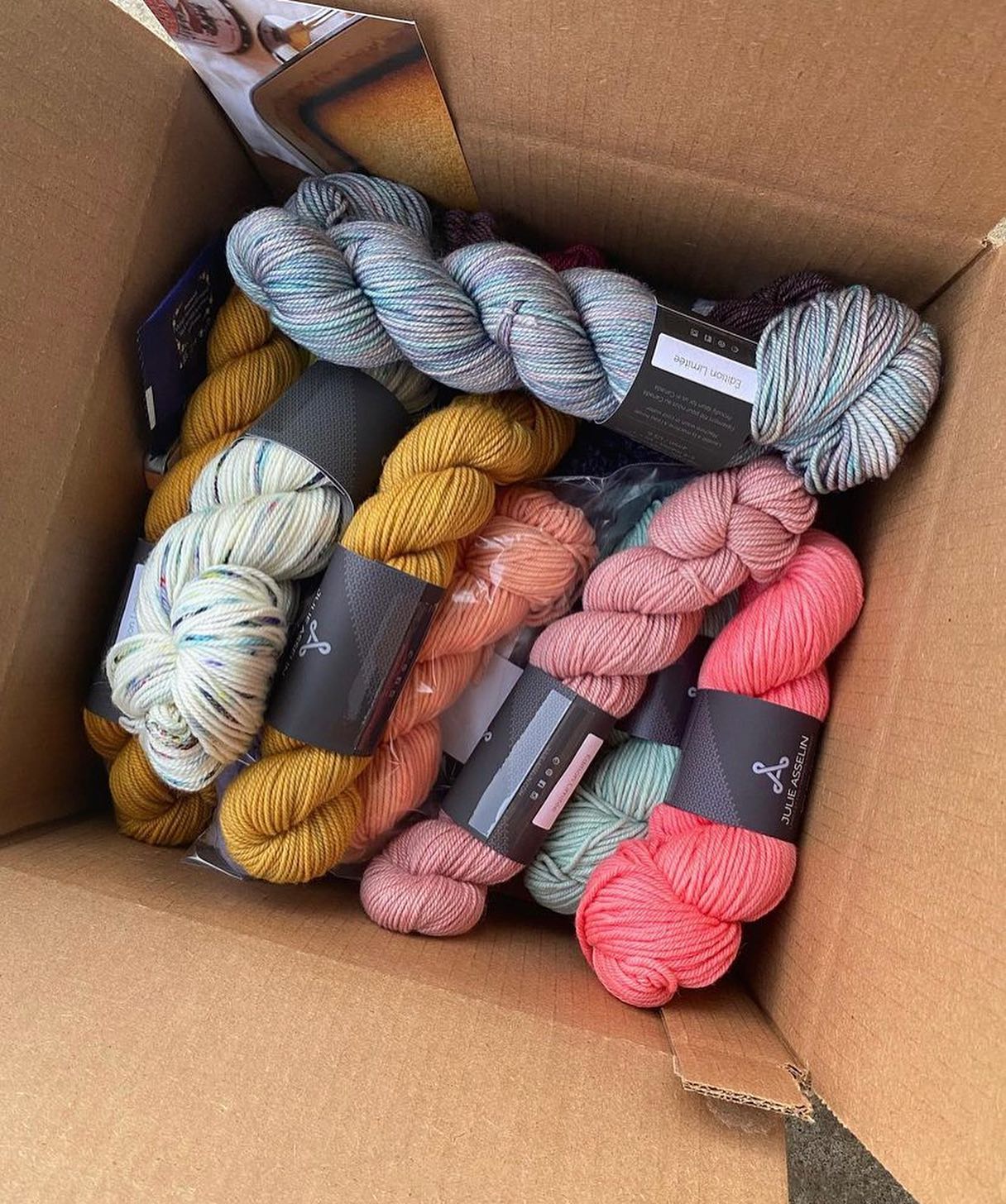 Pattern inspiration by Teresa
---
We met Teresa during our last visit to Les Tricoteuses du Quartier's Café Tricot. We were charmed by the beautiful projects Teresa made with our Mystery Boxes from our annual studio sale.
We invited Teresa to collaborate with us on a blog post to share her pattern suggestions and inspire you on your next project.
Happy reading!
---
How did your love of knitting start?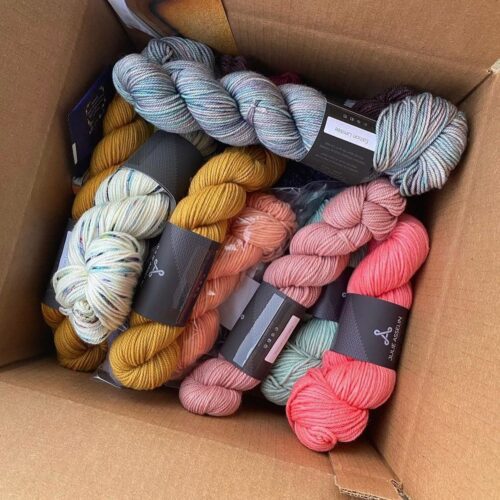 I have always loved fiber. My mother was a seamstress by trade. She also excelled at knitting and crocheting. She sewed all my clothes and knitted me scarves, sweaters and dresses. My mother always knitted without following a pattern and the fit was always impeccable.
I learned the basics of knitting at school but my mother was often the one that finished my projects. While studying at Cegep, I saw a sweater in a store that was too expensive for our family budget. My mother offered me to knit it under her supervision. It took me about a month to make it. I enjoyed the experience very much. I wore this sweater every week to my classes.
Afterwards, I knitted a few other sweaters under my mother's supervision. It was like a Mystery KAL every time since I didn't know the outcome until I finished it. When I left my parent's home, I tried to knit patterns from magazines. As I was a size "XS", the sweaters were always too baggy and the sleeves too long. So I gave up knitting.
For several years, I only knitted intermittently to make scarves or children's sweaters that I gave as gifts. After all, a kid's sweater always ends up being the right size.
Finally, about ten years ago, someone told me about Ravelry and top-down sweaters. I then rediscovered knitting and I haven't stopped since. I started making sweaters for children again, then accessories and I started knitting sweaters for myself again.
What is your favorite type of project?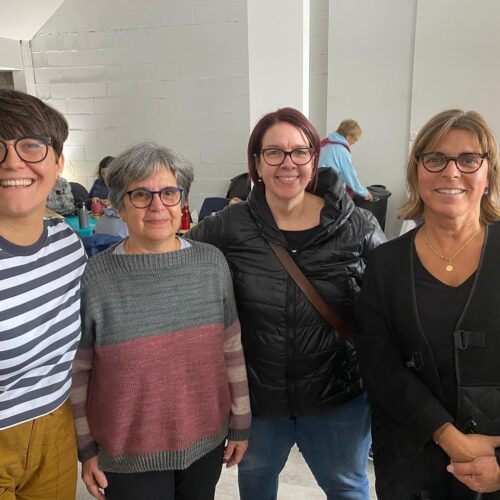 I especially love knitting sweaters, I find it wonderful to wear a hand-knitted sweater. I recently discovered the joys of wearing knitted socks.
I love trying new techniques, I sometimes knit a project just to try them out. I've tried at least a dozen variations of techniques for socks and haven't finalized the perfect recipe for me yet, but it's coming.
I bought a DK-Worsted size "Stash builder grab bag" box in February 2022. I loved the contents: beautiful yarns in colors that I am not usually attracted to. This purchase allowed me to get out of my comfort zone and pursue different projects.
A new knitting challenge that you would like to take up soon?
My next project: a Musselburgh hat in Fino bought at Les Tricoteuses du Quartier's Café Tricot.
I'm also thinking of knitting a colorwork yoke sweater by Camilla Vad and Camille Descoteaux's Lundi cardigan entirely in brioche.
Suggestions for patterns with our yarns?
When we buy one skeins on a whim or when we buy a surprise box, we often think of knitting accessories such as hats, socks, and cowls. I prefer to combine several colors to knit a sweater. The possibilities are endless: colorwork, stripes or color blocks.
I always have a few projects of this type in mind and in my Queue to use solo skeins or leftover yarn. These patterns are perfect for "Stash builder grab bag" boxes since they only use one or two skeins of each color.
So here are some suggestions for sweater patterns that I knit with Julie Asselin's yarns and using one or two skeins of each color:
---
Thank you for sharing your story with us, Teresa!
To follow Teresa's woolly adventures, find her on Ravelry.