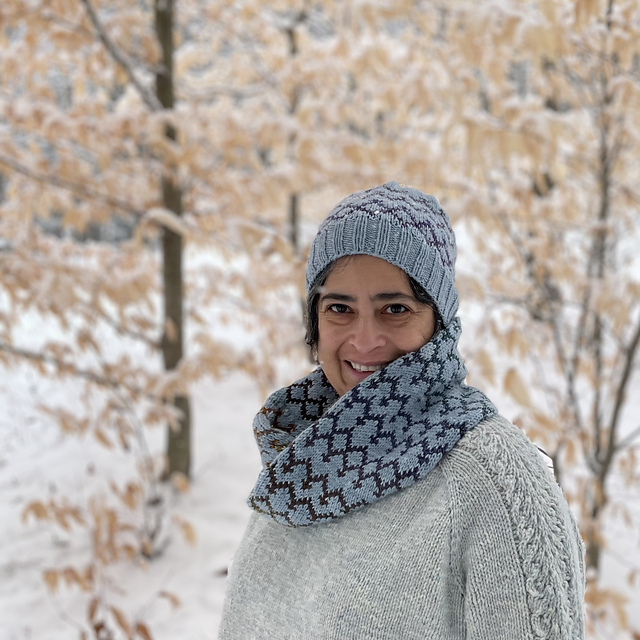 New Patterns for Winter
---
Winter is the perfect season for knits. The snowy landscape can be mysterious but also are full of magic. The short and quiet days are the perfect invitation to contemplate the meditative joys of making.
We hope that the latest patterns published in your yarns give you inspiration for your next cast-on.
Happy stitching!
---
Box Pleat Top
The Box Pleat Top by Andrea Hungerford is a sweatshirt-like layering piece that we love to reach for. Pop it over a Classic Long Sleeve Tee, or wear it solo as the weather transitions throughout the day.
---
Laste Cowl & Beanie
Amanda created this beautiful crochet set in DK depicting leaves and acorns as a nod to our mutual love of plants and nature and how we take care of each other.
---
Compostela Hat & Cowl
Compostela Hat & Cowl by Lucinda Iglesias is a beautiful set worked up in Journey Worsted + Spincycle Yarns Dream State is the perfect set to stay cozy warm and colorful this winter.
---
Campsider
The Campsider by Alicia Plummer is comfy AND can go from casual to formal in a snap! It's designed with lots of positive ease for movement and with a yoke that drapes nicely over the shoulders.
---
Mika Slipover
Mika Slipover by Genièvre Dugon is definitely a wardrobe staple and the perfect layering piece for Autumn. We love the attention that Genièvre's gives to details in all her patterns.
---
Vintarose
Vintarose by Création Andy is a beautiful and comfortable reversible colorwork cowl worked-up in Fino.
---
Classic Bucket Hat
The Classic Bucket Hat by Andrea Aho is equal parts cozy and fashionable. This new bucket hat pattern is suitable for any level of knitting experience! It's also a quick knit which is fun too.
---
Ursa Major
Ursa Major by ACCROchet is a simple crochet hat in Boucle with a wide brim designed in collaboration with Wööl Emporium de Laine.
---
Knitmas Cowl
We are happy to have been a part of Susana Lobos Garcia Knitmas Cowl MKAL 2021 that was just recently revealed. There were so many beautiful samples knit up in a variety of colours – a special 'thank you' to Susana for using our Leizu DK to make her beautiful sample.