New Patterns for Spring
---
Spring is a time of new beginnings with brightness and freshness in the air after the long winter months.
Springtime brings with it new life and as nature grows its first leaves it is time to nurture new ideas and endeavors.
We hope that the latest patterns published in your yarns give you inspiration for your next cast-on.
Happy stitching!
---
plants and birds and rocks and things
plants and birds and rocks and things by Catherine Côté – this tee has everything we love: v-neck, cropped length, raglan short sleeves and pop of color to make things interesting Catherine used Fino, c. Brume with a mini skein of Are U Crazy? from Bleu Poussiere for her beautiful sample.
---
Fraga
Fraga by Andréane Boulais. This shawl is knitted using 3 skeins of Journey Worsted, so it's pretty quick to make with a beautiful stitch definition.
Fraga is the perfect shawl to keep you warm on those cold winter days or for the spring that is fast approaching!
---
Nydia Cardigan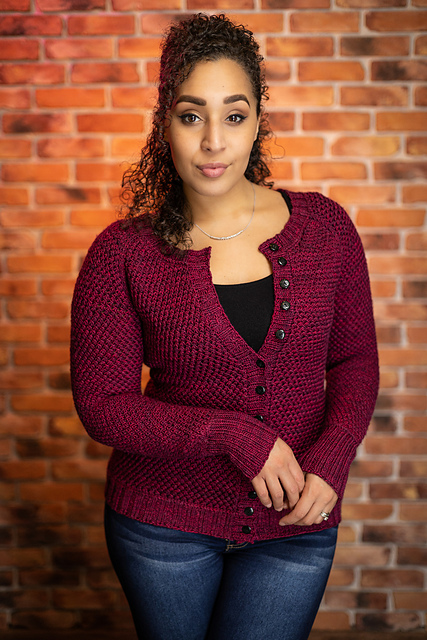 Nydia Cardigan by Vanessa Smith. Just like the pullover with the same namesake, the Nydia Cardigan is worked seamlessly from the top down with compound raglan shaping with a simple yet luxurious all-over lace texture that knits up quickly in Leizu DK. 
Choose your own adventure between a cropped body with 3/4 length sleeves or a full-length body with long sleeves—or mix it up with any combination of the body and sleeve lengths!
---
Bobbin Cowl
Introducing the Bobbin Cowl, a perfect combination of beautiful design & easy stitches.
Inspired by the traditional Filipino bobbin lace that adorned the dresses of her childhood, Lynnette Hulse has created a masterpiece that is effortlessly accomplished with slipped-stitch colorwork.
From the fun slipped-stitch striping to the intricate bobbin motif, you'll be mesmerized by this enchanting design. If you can work a knit stitch, you can make this lovely cowl! And in 3 colors of Mélange N.1, you will love every stitch.
---
Windset
Classic, but make it different. Are you ready for a new hat construction method? Rather than being worked from the bottom up, the Windset hat by Alicia Plummer uses a common sock cast on to create a flat ridge at the crown!
We love how Boucle produces a beautiful, cozy texture when knitted in simple patterns like this clean rib that shows off just the right amount of dimension.
---
Lato
We are thrilled to have Nomade featured in Laine Magazine upcoming book 52 Weeks of Socks, Vol. II. Lato by Paula Wiśniewska are ankle-length socks worked up in Nomade and adorned with a lace motif that mimics the shapes and structures of citrus slices.
---
Periwinkle Shawl
Periwinkles are charming little flowers that spread rapidly and that are often used as groundcover in gardens.
They inspired this design that uses a special stitch that creates little flowers, covering most of the shawl. On the border, a more open, leafy pattern, ends this piece in a delicate way
Find the Periwinkles shawl in Fino on Gabrielle Vézina's freshly released new book Lovely Lace Knits.
---
Après-Midi Cowl
Knitted up using one skein of Fino, the Après-midi Cowl by Susana Lobos Garcia has a delicate lace pattern combined with beautiful cables and it's a great accessory for Spring.