New Pattern For Summer
---
Summer is a time to indulge in activities that promote relaxation, a chance to escape the stresses of everyday life.
The long days filled with sunshine bring people outside in search of adventures and carefree fun.
There is a promise of abundance around every corner. The world around us seems more alive – flowers are full-blown, fruits are at their peak ripeness and greenery spreads as far as the eye can see.
To celebrate the beginning of summer and the longest day of the year, we thought we would highlight the patterns published in our yarns during the past few months to give you inspiration for your next cast-on.
Don't forget to tag us so we can see your work – use the tag #julieasselin on Instagram and julieasselin on Ravelry.
Enjoy the sun and happy summer to everyone!
---
Blizzard Boulevard Shawl
Blizzard Boulevard Shawl by Gabrielle Vézina. Dainty and practical, this reversible shawl features ridges of garter stitch and eyelets on the body, with reversible cables on two edges.
The final edge is made in ribbing, for a neat finish. Whether you need a pretty accessory to feel cozy and stylish, or an effortless neckwear to get you through all kinds of weather, Blizzard Boulevard Shawl is sure to fit the bill.
Gabrielle's sample is shown in Julie Asselin Fino, c. Pixelated.
---
Musgo
We are delighted to have Boucle featured in Textured Knits by Paula Pereira.
Musgo means moss in Portuguese. The combination of Musgo's cozy and soft bouclé yarn and the cabled pattern reminds Paula of mosses — both visually and in the way the delicate, squishy fabric feels.
The wide cables, with their lines and twists, create a unique movement in the garment. If you are into reversible knits, Musgo also has a different, equally beautiful, texture on the inside.
---
Comet Trails Wrap
The Comet Trails Patterns by Mary W Martin will introduce you to Fission Knitting as colorwork. The patterns show you how to work two different colours of cables onto a marbled background. This is done without floats or bobbins!
The Comet Trails Wrap is true a masterpiece worked up in Merletto, with twelve cable motifs in different colour combinations, the possibilities are endless to explore your creativity.
---
Nightingale Crescent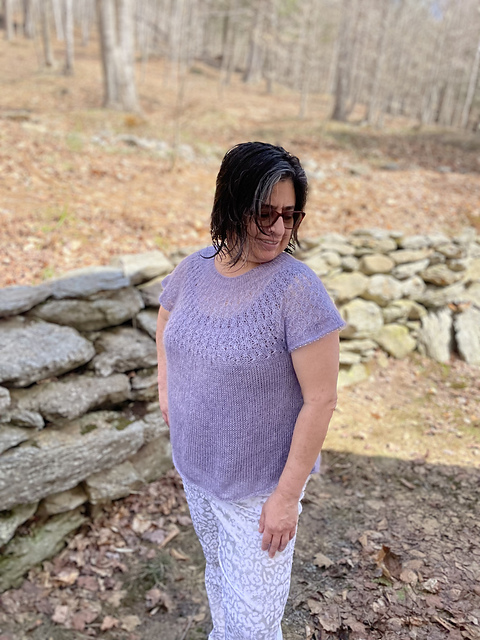 This tee designed by Lucinda from Mont-Tricot is knitted using Anatolia held double. The top-down yoke has a fun stitch motif that appears to be placed randomly. Miyuki beads placed on the edging of the sleeves and bottom edge give add the perfect touch to this fun summer tee.
---
Open Heart Pullover
The Open Heart by Turquoise Toque Designs is a top-down circular sweater knit in a lace pattern inspired by Japanese stitch patterns. Look out for its 'sister sweater' knit in DK with a stocking stitch body, and the same beautiful lace yoke. The sample is shown in Leizu Fingering, c. Echo.
---
Lavenders for Veronica
Lavenders for Veronica by Soohyun Nam is an elegant stole with a stunning lace panel and a collar.
Worked from side to side, symmetrical garter stitch wings with a bud-detailed border flank a gorgeous bouquet-like center panel, featuring a Japanese lace stitch pattern resembling petals, leaves, and pistils, perfect for showcasing a special skein of yarn.
For those looking to make a memorable gift for themselves or a loved one, or those wishing to indulge in the joy of slightly advanced lace techniques, it is an ideal project.
The sample is shown in Leizu Fingering, c. Hydrangée; Anatolia, c. Après la pluie; Journey Sport, c. Latte.
---
New Leaf Cowl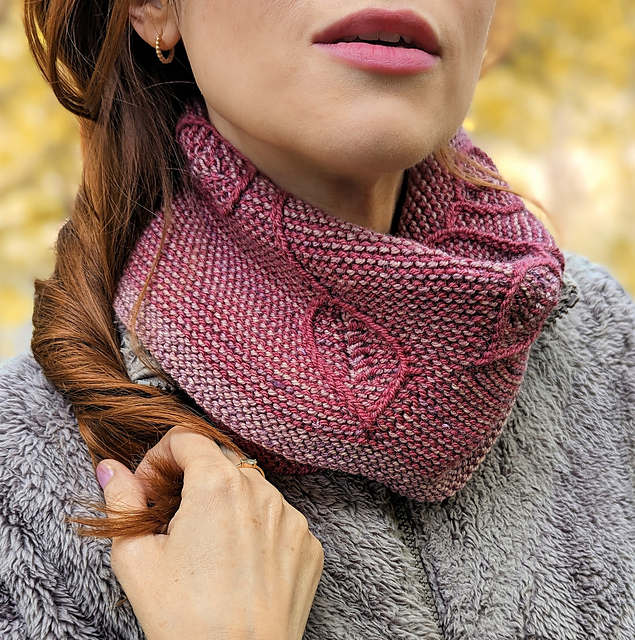 With this pattern, Mary W Martin has updated the fusion knitting technique to make it easier. The intricate-looking leaves are fully reversible and lay atop a fabric that is worked in the bias around each leaf; the movement of the fabric gives the effect of leaves fluttering in the wind.
This cowl can be knit from two colours of yarn of any weight. Samples are shown in Leizu DK, c. Adelaide & Antique and Leizu Fingering, c. Odyssee & Safran.
---
Pampas Tee
The Pampas Tee by Samantha Guerin is a go-to elevated basic summer top. An airy lace yoke and wide I Cord trimmed neckline keep the tee breathable. Top-down construction is easily modified to wear just the way you like it.
When the body is knit to the full length, Pampas pairs easily with shorts, jeans or just about anything! At a cropped length, this would be a great layering piece with dresses, rompers or skirts.
Samantha's sample is shown in Leizu Fingering, c. Safran. Leizu blend of merino and silk beautifully highlights the lace yoke and creates a breathable fabric perfect for these warmer days.