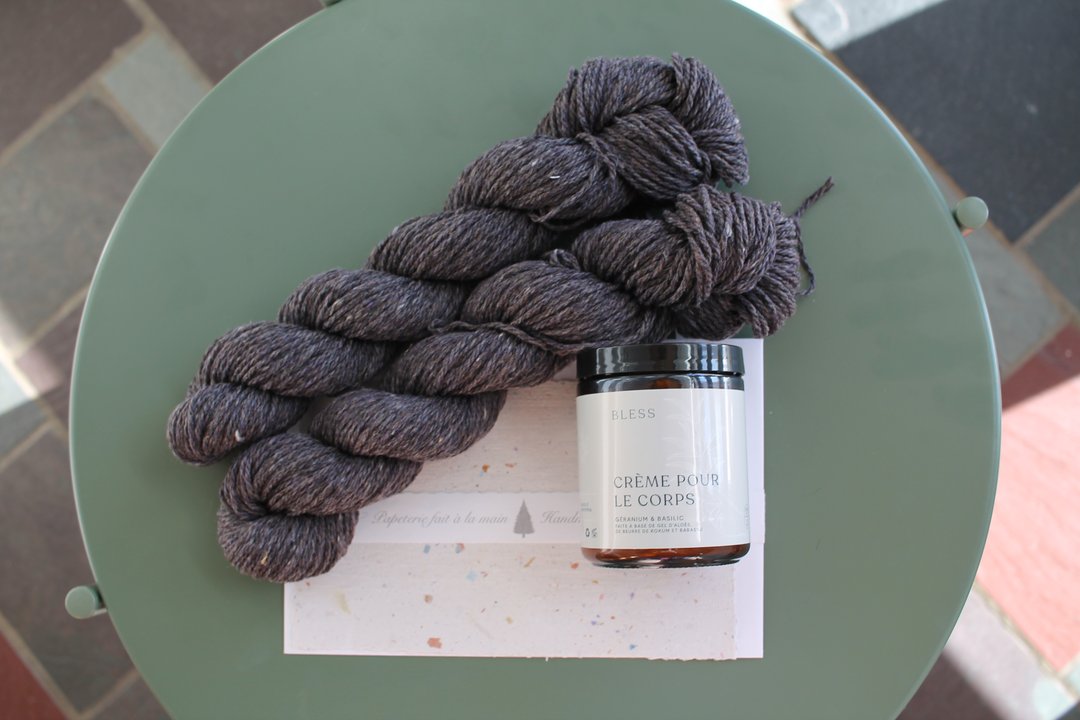 Natural Skin Care
February 18th, 2021 • Blog • 0
---
We love to combine stitches and favorite products to create bundles that allow you to discover products from fellow artisans.
We are delighted to offer two new bundles in collaboration with Bless Naturel and Boréal Folk Apothecary our most recent favorite in natural body care. 
---
BLESS soins corporels naturels
Bless Naturel is a new Quebec company whose mission is to offer 100% natural and vegan body care products.
Kemesly and Julie have create lush products that feel wonderful on the skin and smell absolutely amazing!
2 Nurtured skeins (Fonte or Antlers in Blue)
1 Miss Souris greeting card
---
Boréal Folk Apothecary
Boréal Folk Apothecary creates natural skincare goods made from wild plants sustainably harvested in Canada's vast forests. They are inspired by native plant species as well as local raw ingredients and thrive to create a regionally made & sourced product.
Their nomadic lifestyle allows them to chase seasons and wild botanicals through their ever-changing northern landscapes. They sustainably harvest plants (most of which are commonly known as weeds) from healthy colonies.
They dry, dehydrate, infuse, macerate, extract and distill plants for their unique properties in their mobile wilderness lab.
Then they create products revolving around the plants' unique properties carefully choosing highly effective ingredients such as organic oils, clays, salts and therapeutic grade essential oils that will synergistically blend well together.
Each bundle comes with:
2 skeins of Mélange N.1 (Vignes or Brownstone)
1 Miss Souris greeting card
For you or a friend, these bundles are created to evoke a special moment in time 💕