At a LYS close to you ~ Mont-Tricot
---
Always fascinated with the variety of creative paths one can follow, we started to ask our collaborators, LYS owners, to share their experiences on our blog.
Today: Lucinda Iglesias, Gilles Barbeau and Chulita, owners of Mont-Tricot in Sutton, QC.
Our own story runs parallel to Mont-Tricot's – we started at about the same time in 2012 and Mont-Tricot was one of the first shops to carry our yarn.
Through the years, a true friendship developed with Lucinda and Gilles, as we share similar values, notably through our small businesses.
Happy reading!
---
Lucinda, how did you start knitting?
Gilles was running in ultra-marathons up and down the American west coast, which meant lots of travels for us. I had loads of free time while Gilles was running 30-35 hours straight.
I already knew how to knit and had fun playing knitting tourist by visiting LYS's everywhere we went. I like to think of that time as my research & development phase.
How was Mont-Tricot brought to life?
We came to Sutton on a visit and fell in love with the area. We exchanged our downtown condo in Vancouver for 5 acres in the forest.
While Gilles was building our house, my position in banking was abolished. That's when everything clicked together and I decided to go into business.
In March of 2012, we opened Mont-Tricot on Principale street in Sutton, QC.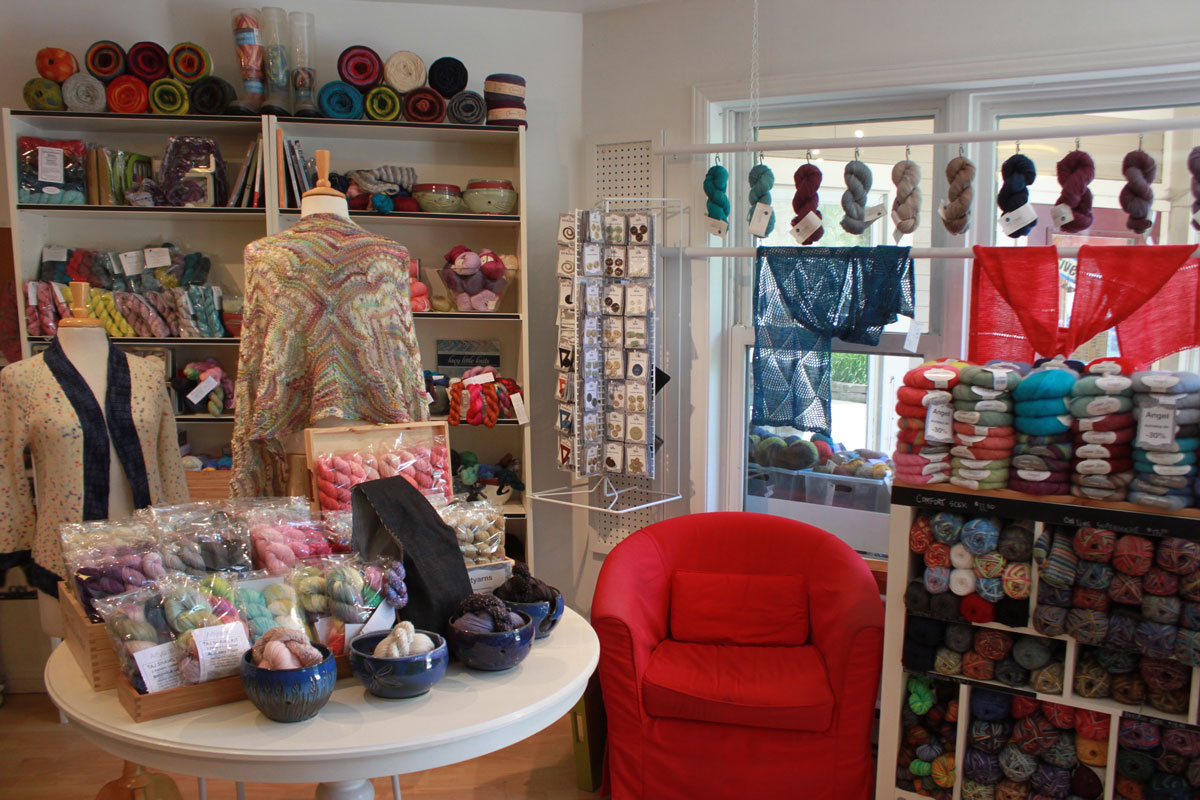 How did the shop evolve since opening 6 years ago?
A year after opening, Gilles started to work full-time in the shop. Gilles is the organizer, he wears many hats : accountant, administrator, online shop manager, yarn roller and color adviser.
All this allowed me to focus more energy on the creative side of things : finding patterns and yarns I loved, as well as knitting techniques, pattern writing and helping customers.
Mont-Tricot is in fact a little business with a lot of passion. When people come, it's like having friends over. Even Chulita, the shop's little dog, is happy to receive hugs from customers!
And there's humor in everything we do, especially when Gilles is goofing around!
What would you like to accomplish in the knitting community through Mont-Tricot? What do you want to focus on?
We are passionate about yarn and natural fibers and wish to communicate this passion and help people discover new sheep fibers or any natural fiber, really.
We are also passionate about more traditional knitting techniques such as fair isle, ganseys, Cowichan sweaters, everything to gain better insights about fibres and techniques.
Any local suggestions for knitters who wish to visit the shop?
Two microbreweries: l'Abordage and La Brouerie. Perfect to convince boyfriends to come to Sutton! I also have a big crush on a linen boutique : Vivre en Lin, which carries only clothes made of linen… I love it.
---
Mont-Tricot carries a wide variety of our yarns, which you can check out in store or online.
Follow Mont-Tricot's wooly adventures on Facebook, Instagram & Ravelry.