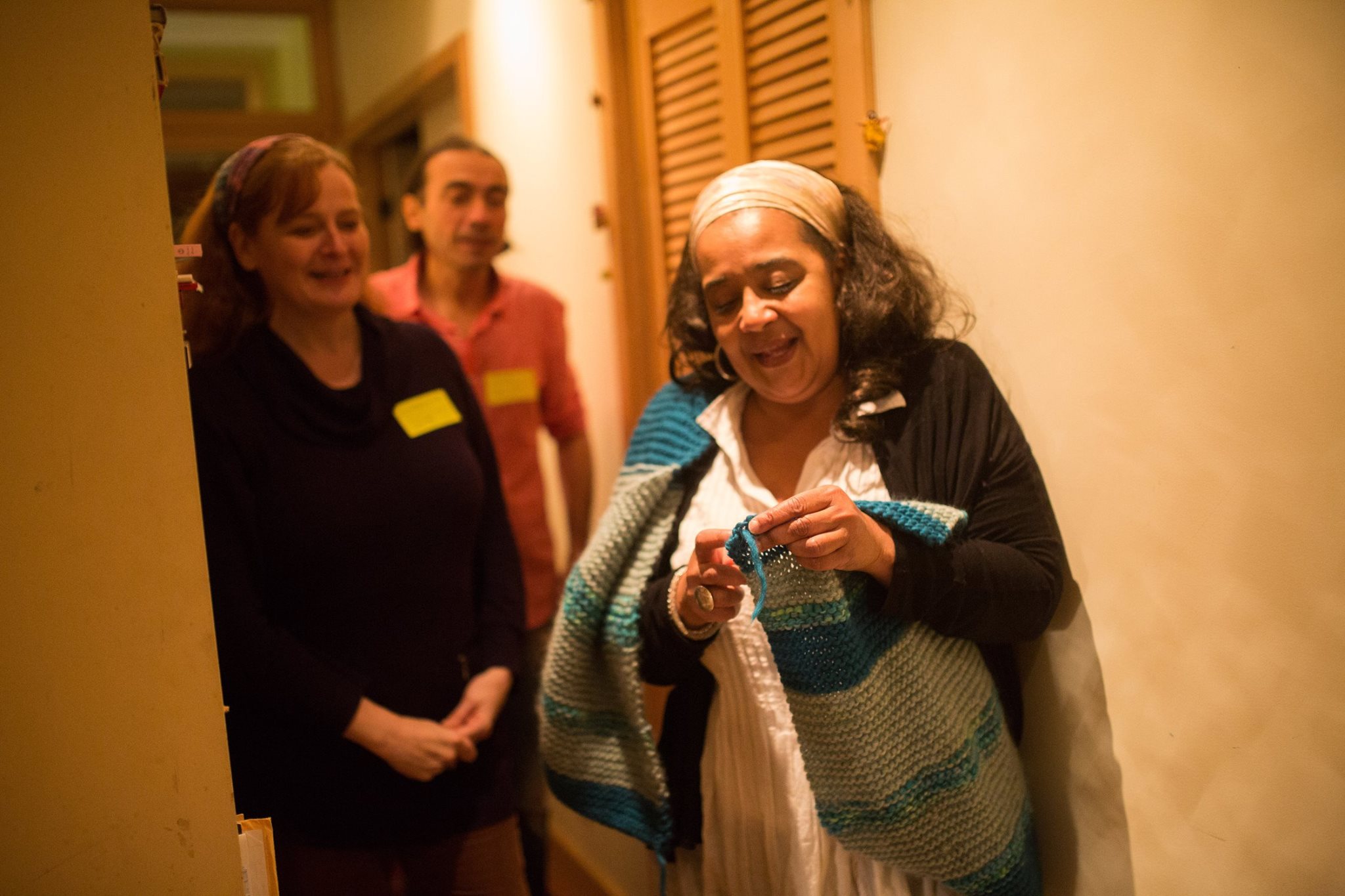 Knitting with Friends ~ Marie Sterlin
---
Because we are always fascinated by everyone's creative paths, we started asking our friends to share their experiences on this blog.
Today, we learn more about Marie Sterlin, or esmevan about Ravelry.
From the moment I met Marie, she was one of my favourite people, thanks to her big smile, her bright laughter and her contagious good humour.

We became friends instantly. Marie is today one of the people with whom I can discuss absolutely everything and we agree a lot in our values and our vision of life.
We recently started a passionate conversation about the issue of diversity in the knitting world. We exchange articles, series references or documentaries to feed our discussion.
Marie is a researcher and documentary filmmaker. She invites you to discover her most recent project with Emmanuelle Walter, Gentriville, an interactive experience that uses a few Montreal neighbourhoods as examples to explore the various aspects of gentrification, a phenomenon affecting all major cities around the world.
Have fun reading!
---
First of all, tell us a little more about yourself.
I live in Montreal, in the Mile End, and I work in research, documentaries, and writing.
Knitting is essential in my life, because it brings me back to a less cerebral aspect of life. Otherwise, I have a daughter, a sixteen-year-old girl for whom I knitted so much when she was little. But unfortunately, she no longer asks me for anything that is handmade. She will come around, I guess. At worst, I can do what I want for her children!
When I started knitting again, I was fascinated by the importance of communities around this hobby. You see, I had learned the old-fashioned way, being taught by someone.
It didn't occur to me that people might meet after work or on weekends to knit in shops or cafés. I found it fascinating and joined a few groups (including Stitch and Bitch, and Tricopains et Tricopines).
I was never blindsided by the lack of diversity in those groups, even though I am a member of a visible minority.
It is questioning that I am undergoing at the same time as I think about the place that knitting occupies in my life. The discussion challenges us differently in Montreal than it seems to do in major American cities, but I find it very interesting to follow.
What is your personal knitting background?
My twin sister taught me how to knit on a long train trip to Gaspésie when I was fourteen. I knitted a lot after that.
All kinds of projects including stranded colourwork, quite complicated sweaters for my best friend, blankets, scarves, etc.
It was a time when to find wool in Montreal, you had to resort to Penguin and Phildar.
After a while, I knitted less and less because there were fewer places and opportunities, but with the opening of independent shops, I took up my passion again and became—alas!—addicted to the beautiful yarn of independent makers. My fingers are increasingly difficult to please…
Knitting gadget you can't live without:
I just discovered there are notebooks to list my projects! I also love stitch markers.
Number of WIPS on your needle right now:
I have three. I like to finish what I start quickly.
Favourite book, not knitting-related:
I love the writer Annie Ernaux, she has written about all the intimate events or experiences of her life, including A Woman's Story about her mother, A Man's Place about her father, and The Possession about her abortion.
I have a huge fondness for Paul Auster whose characters, sensitivity and Brooklyn I love. I also read a lot of essays on gentrification, John Joe Schlichtman's Gentrifier or Gentrifications, written by a French collective.
This is both my favourite subject and my expertise since I made a documentary on the issue. I like to think about how our working-class neighbourhoods can become coveted overnight.
Hidden talent:
I can teach knitting even if I'm not patient and I don't know that much. One day, a friend who had a shop and who sold yarn, among other things, asked me to give classes.
I resisted by pointing out to her that I didn't have a lot of knowledge in this area, to which she replied that teaching was not so much about passing skills as it was about being able to support the person who is learning.
For the past nine years, I have been giving weekly knitting classes to the children at my local school. Although I found her very esoteric at the time, I must admit that my friend was right.
It is fascinating to see the children learn and how important it is to value each little achievement so that they can integrate the lesson.
What does knitting bring you? — How does it change your life?
I don't think I've ever spent a day not knitting during the last 20 years. It is a self-seeking and altruistic pleasure because I knit a lot for others.
I am not a knitter that needs to be challenged, and I stay a lot in my comfort zone. However, once in a while, I challenge myself and work on perfectionism, patience, and thoroughness, which are not common traits in my life.
I choose a pattern that contains difficulties that I have never encountered before. Knitting always relaxes me, but sometimes it forces me to explore my limits.
Go-to favourite accessory when knitting a gift?
Sarah Young's Rikke hat; it fits everyone. I have three friends, two guys and a girl, who were born in September and last year, when we celebrated them all together, I gave them each a Rikke hat knitted in Leizu Fingering.
What a joy to see their reaction! They were delighted! All three hats fitted perfectly. And I love knitting hats even though I don't wear them very often.
We are visiting your city (Montreal, QC). What are your favourite places?
I love Montreal and its neighbourhoods. I have difficulty choosing a place, but I certainly love the Mile End, where I live, and I am thrilled by Le Jardin du Crépuscule, the oasis created by my sculptor friend Glen LeMesurier right by the railway, at the entrance to the Rosemont viaduct.
You can find in this area the most beautiful sunsets. There are about forty huge sculptures in recycled metal.
Otherwise,  I just discovered the pretty café Le Toledo on Mont-Royal Avenue (at the corner of Drolet). Further east, everyone should visit the Bleu et Persillé cheese shop on Mont-Royal (at the corner of Chambord).
The Grande bibliothèque at the corner of Berri and Maisonneuve is an incredibly rich place. Books, a view and armchairs, what more to ask for.
---
Traduction: Vincent Deslandes