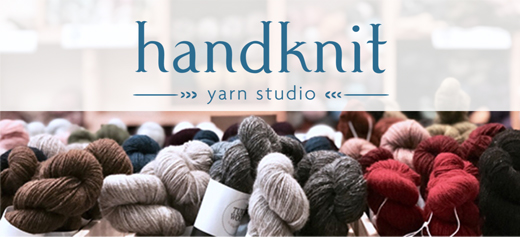 At a LYS close to you ~ Handknit Yarn Studio
---
Always fascinated with the variety of creative paths one can follow, we started to ask our collaborators, LYS owners, to share their experiences on our blog.
Handknit Yarn Studio is a Local Yarn Shop in the vibrant shopping district of James Street North in Hamilton, Ontario.
Focusing on providing a wide selection of high-quality yarn and supplies, sought-after independent small companies that offer thoughtfully produced natural yarn, Handknit Yarn Studio is a cozy and welcoming store with a modern twist and we are proud to be a part of their exclusive selection.
Happy reading!
---
How did Handknit Yarn Studio come to be?
For years, Kate and I would meet for coffee or go yarn shopping together in Toronto. There was obviously a lack of options in our own city of Hamilton, and Kate tried to convince me to open a yarn shop for years. Slowly, we started seeing positive changes happening in the James Street North area and the possibility of a productive business venture.
When the right opportunity came up – a little shop with a cute mezzanine that was ultimately an ideal 'incubator' space- we jumped on it. Three years later, we moved into a 1,300-sq.ft space on James Street, and now we have a big enough space to host our own knit-alongs and classes, and room to carry a wide selection of beautiful yarns as well as spinning and weaving equipment.
How did the shop evolve since opening?
Since opening, we've grown from being just Kate and myself to have a dynamic team of staff. We have loyal and enthusiastic customers and a wonderful sense of community. We're constantly evolving and refining our product choices and what we choose to offer our customers, and we are consolidating our sense of style which, we believe, is now in line with our brand and aesthetic.
When we started, we were in a much smaller space around the corner (only 350 sq. ft!), so we had to be very selective in the yarns we chose to carry. Since we are in our current space, though, we are able to appeal to a much wider customer base while still adhering to our original commitment to selling high-quality natural fiber yarns that are accessible in both price and knittability.
What do you want to focus on in the future?
We wish to continue building relationships in our local community, while also expanding into a broader community through online shopping. We are striving to create a website where you can shop, but that is also a 'go-to' hub for knitting tips, patterns, event details, and inspiration. We want to continue providing and guiding customers towards new trends and new experiences in knitting, crochet, spinning, weaving, etc.
For knitters wanting to visit your store, what are some of the best things to do and see in the area?
Our neighborhood of James Street North is a wonderful booming part of Hamilton that is full of amazing businesses, coffee shops, and restaurants.
Go to Needlework, the best fabric store ever, stop by Smalls Coffee for the best coffee and visit i fiori – our favorite florist. There are many great restaurants in this area, but our personal favorites are The Burnt Tongue and NIQUE.
---
Follow Handknit Yarn Studio's wooly adventures on Facebook, Instagram & Ravelry.