At a LYS close to you ~ La Violette
---
Always fascinated with the variety of creative paths one can follow, we started to ask our collaborators, LYS owners, to share their experiences on our blog.
Today, Manon from La Violette Yarn & Gift Co.
If you're passing through the little town of Bouctouche, New Brunswick, it's hard to miss the bright yellow storefront of La Violette Yarn & Gift Co.
This LYS is just as bright and warm on the inside as it is on the outside: featuring local yarn from across Atlantic Canada and a wide range of Canadian indie dyers in addition to a great selection of commercial yarn, La Violette has everything a fibre lover could dream of.
Owner Manon Drolet prides herself on serving Acadians and knitters from across Canada by offering service in English et en Français!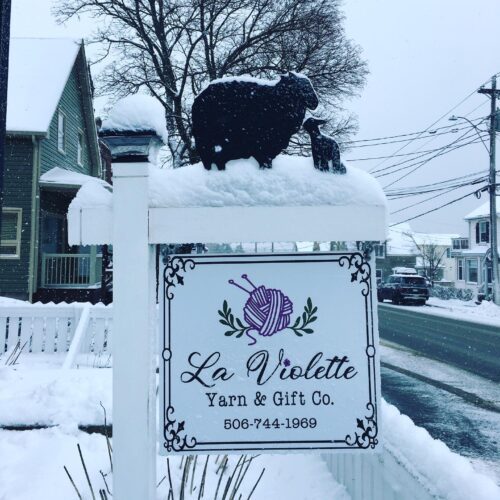 – How did La Violette come to be?
In the very beginning of the pandemic I found refuge in my knitting and couldn't find a place nearby to find inspirations and quality yarn.
A friend told me about the vacant space in Bouctouche and I fell in love with the historic, bright, yellow building. 6 weeks later La Violette, named after the New Brunswick national flower, was born.
I never thought that I would one day own a yarn shop, I am very happy I made this crazy decision. It's definitely a learning process as the pandemic made it difficult to get supplies but the store has managed to bloom and grow.
– Tell us about your fiber journey, what fuels your imagination and creativity?
I started knitting when I was little with my mom, I wanted to make clothes for my barbies!
I picked up needles many years later, in my forties after seeing some amazing Christmas stockings my friend had knit. By the following Christmas I had made stockings for each member of my family, hats, scarves and a sweater…I was addicted!
I love to make garments my own, I am the queen of modifications! I even modified my first pattern stocking and did cables right from the start.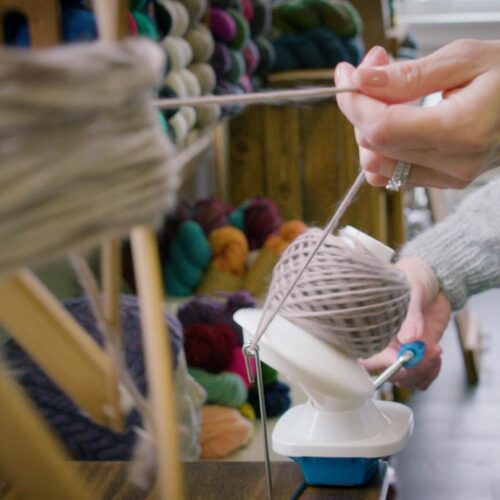 My first sweater was a Patons men pullover, when I was done I had created a colorwork yoke and my son was the recipient. I am drawn to any patterns that feature cable, bobbles, stranded colorwork, mosaic, and lace…I rarely do plain stockinette, it takes too long!

– What do you want to focus on in the future?
I really want to focus on building a community "One Stitch at a time" where we can share and learn from each other. I love hosting events to bring people together, I find it inspiring to see what others knit or crochet.
With Social Media the knitting community is constantly growing, making everything available at our finger tips, but, there's nothing like walking in a local yarn store and being able to share your passion and interact with a real person.
– Go to patterns at the moment? Patterns that are part of your dream wardrobe?
I have a serious knitting addiction and I want to cast on everything! My go-to patterns are anything from garments to shawls, one of my favourites like the rest of the knitting community is the Ranunculus, I made 5 and am planning a sixth in Julie's Nurtured Fine and Anatolia! My dream wardrobe is made of everything mohair!
– A color that represents you?
Purple like the Violet of course and all cool colors like blue, turquoise, and grey.
– For knitters wanting to visit your store, what are some of the best things to do and see in the area?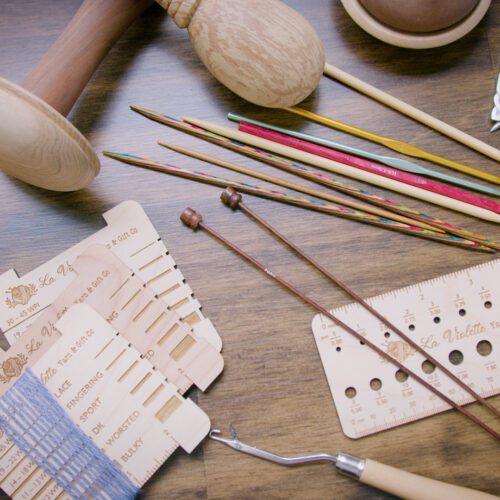 Bouctouche is located on the Atlantic Ocean in Acadie, home to the famous Bouctouche Dunes: The fine sand dune extends 12 km into Bouctouche Bay and was created by the constant movement of sand due to the wind, tides, and ocean currents since the last ice age.
The dune, estimated to be 2,000-years old, changes shape with every major storm. It serves as a habitat for a wide variety of aquatic plants and animals, and shore and migratory birds, making this a major ecological site.
Le Pays De La Sagouine is also not to be missed. This village is straight out of the novel by internationally renowned author and playwright Antonine Maillet.
Le Pays de la Sagouine is the modern home of Acadian joie de vivre! Imagine a land out in the open air where life revolves around song, plays, shows, laughter and good food.
And while you're in town grab a Lobster roll, fried clams or seafood chowder from Ponzi's restaurant.