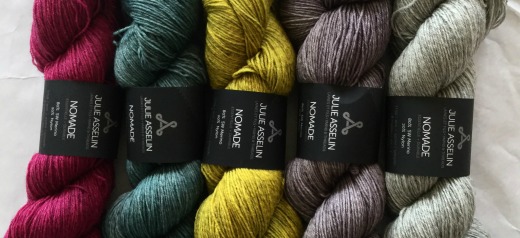 Durable, stable, and beautiful, a good sock yarn is an essential staple in any knitter's stash. With high twist, springy construction and the variety of beautifully dyed colors, Nomade is the newest addition to our lineup.
This blend of 80% Superwash Merino Wool and 20% nylon is more than the key to flawlessly beautiful socks. We've taken careful steps to assure that you can feel good about buying and using our yarns — the Merino wool chosen is supremely soft and bred in the U.S.A, where the yarn is also treated and spun, reducing the travel and carbon footprint of each skein. With 500 yards of yarn per 4 oz. skein, this yarn goes the distance through carefully considered construction. Each strand is lofty and loaded with air, making this yarn lighter and warmer than your average sock yarn, with plenty of yardage to create socks for feet of all sizes. With a high twist and bouncy finish, we truly believe Nomade is the ideal sock yarn knitters have been searching for.
This true fingering weight wool checks off all of our boxes: local, ethical, and of extremely high quality, Nomade is appropriate for so much more than socks. Knit your favorite shawls, scarves and sweaters in this decadent, dreamy blend for durable, supple, and soft fabrics. Combined with the beautiful range of colors designed to fit within our existing line, we know that this new yarn will be perfect for your next project!
Join us for a journey with Nomade and cast on a pair of socks, a sweater, or an exquisite accessory — you won't regret the choice. We've been wearing our Nomade socks for many weeks, and can assure you, this yarn is the key to happy feet!