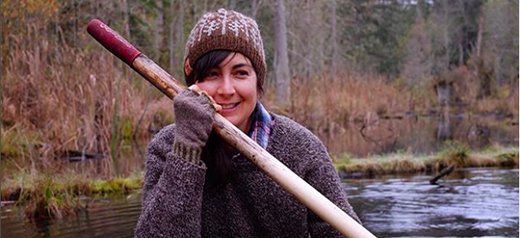 Fascinated by other people's creative path, we recently started to ask LYS owners with whom we've been working to share some of their experiences on the blog. Today, meet Anna Dianich, owner and founder of Tolt Yarn and Wool in Washington!
Tolt Yarn and Woolis a community gathering place located in the heart of Snoqualmie Valley in Carnation, Washington.
Carnation is a rural western Washington community with an abundance of natural beauty. Framed by the Cascade foothills and located where the Tolt and Snoqualmie Rivers meet, Carnation is in one of the most productive agricultural regions in the Northwest.
Tolt Yarn and Wool is a store filled with beautiful yarn from thoughtfully-sourced companies drawing enthusiastic knitters from around the world.
---
How did Tolt come to be?
My inspiration for opening Tolt came about from a group of women that I would get together with and craft. This gathering of women, during a time in my life when I spent most of my days home with young children, was so therapeutic as well as a creative outlet. I really wanted to create a space that would bring people together through fiber and making, that space is Tolt.
With the help of my husband and friends, I opened Tolt in November of 2013.
How did your fiber journey evolve since you opened the store? Being surrounded by wool and yarn every day and being around an amazing group of knitters has definitely made me a better knitter! I was very nervous when I first opened Tolt, I had fears of not knowing enough about knitting. What if I couldn't help people with their projects? I realized that I didn't have to know everything… no one really can. That's the wonderful part of knitting, there's always something new to learn!
Since opening Tolt I've had the opportunity to work with wonderful designers and yarn companies, meet farmers and ranchers as well as travel to amazing places. It's definitely been a journey and continues to be.
On that subject, Tolt celebrated its 4th year in October, where do you want to take your knitters in the years to come?

I want to continue to be a gathering space for our knitting community. To provide more events and classes that inspire all of us and to strengthen the connection our knitting community has with fiber producers and farms.
Favorite knits and go-to pattern?
There's so many! I love very wearable, non-fussy knits. I like designs that are practical for the outdoors and hard work. I guess that's why I get so excited about Camp Tolt pattern collections every year and our Icelandic Wool Month pattern releases.
For knitters wanting to visit the store, what are some of the best things to do and see in the area?
We are so lucky to be in the Snoqualmie Valley! This area is full of beautiful hiking trails, farms, rivers, campgrounds, as well as an annual music festival and still, we're only a 45-minute drive from Seattle.
---
We have recently put together a beautiful Nomade palette for Tolt, with three exclusive colors (Plaid, Hot Chocolate, Golden Rod) inspired by Tolt's love of the great outdoors combined by Anna's ability to bring people together to find joy in making.
Both Nomade and Nurtured are available at their web store. To follow Tolt wooly adventures find them on Facebook, Instagram, and Ravelry.