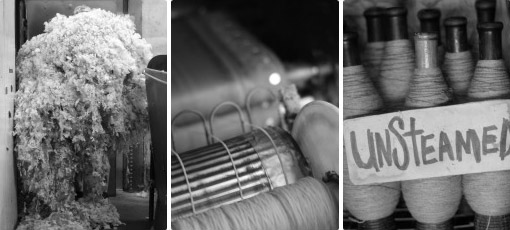 While our logo says "Julie Asselin – Hand dyed yarns", colour is not our only passion. We're also passionate about fiber and yarn, which is why we helped design most of the yarn lines that we carry. "Beyond the Dyes" is about sharing the process that led to each of those yarns, from conception to delivery.
Last time, we spoke about our inspiration for Nurtured. Today, I thought it would be fun to post photos of the whole process, between Coaticook, QC & Putney, VT.
The first step was for Jean-François and myself to dye the raw fleece in our Coaticook workshop (more on that when we get to talk color in the last part!). We had to organize things differently because of the sheer volume of fleece vs spun yarn, as can be seen in these photos, showing the fleece being prepared for carding using the picking machine; making sure that all the colors are distributed evenly:
Green Mountain Spinnery has quite the carding machine ! Don't you love that roving? It almost look like candy on that bottom picture … The color shown is Crinoline. Notice how the carding changes the color already – we didn't really know, when we first experimented with the colors, what the end product would look like exactly, which was both exciting and nerve-racking! This is another way in which Nurtured was about jumping into the unknown, but with people we trust.
After carding, of course, came spinning. It is amazing to see how the machines used today are quite similar to those used over a century ago. It reminds us that spinning has a very long history (color shown is Chambray) :
Before becoming a 3-ply light worsted, the yarn had to be steamed (notice the beautiful wooden bobbins – colors shown are Compass and Trought the Looking Glass):
… and were then plied :
… before being skeined :
As you can see, Jean-François and I were lucky enough to participate in the process at the Spinnery! What a wonderful adventure Nurtured is turning out to be, we can't wait to experiment with this process again! Many thanks to our wonderful friends at Green Mountain Spinnery, whose friendship and expertise are invaluable to us. Much love, guys!